Lines and Wrinkle Treatments
Wrinkles are caused by everyday factors like sun damage, smoking and facial expressions including laughing or frowning. As you get older the elasticity of your skin reduces too, and wrinkles naturally form - injectable procedures can help to reduce wrinkles for younger looking skin. These injectable procedures help to smooth out facial wrinkles especially frown lines on the forehead, wrinkles around the eyes and laughter lines, without the need for surgery. Injectable treatments are often used to slow down the effects of ageing and as a non-surgical alternative to facelifts or brow lifts.
Botox type injections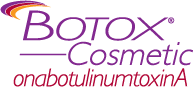 There are a number of Botox type products on the market, including Dysport, Azzalure, Xeomin, Vistabel,as well as the original Botox, but are all commonly referred to as 'botox' because they all contain the same toxin A that stops muscles from moving and smoothes wrinkles on the face.
Botox is particularly good for the upper face, e.g. frown lines, crow's feet, smile lines and brow furrows, Botox smoothens, lifts and can even be used to correct asymmetry and shape the eyebrows into a nice arch. It can also be used to treat lip lines and neck wrinkles, when administered by an experienced practitioner. It can also prevent new lines forming.
BOTOX® Cosmetic is a simple, non-surgical, physician-administered treatment that can temporarily smooth moderate to severe frown lines between the brows in people from 18 to 65 years of age. It is the only treatment of its type approved by the Food and Drug Administration (FDA).
One 10-minute treatment—a few tiny injections—and within days there's a noticeable improvement in moderate to severe frown lines between the brows, which can last up to 4 months. Results may vary.
BOTOX® Cosmetic is a purified protein produced by the Clostridium botulinum bacterium, which reduces the activity of the muscles that cause those frown lines between the brows to form over time.
In 2005, almost 3.3 million procedures were performed with FDA-approved BOTOX® Cosmetic.