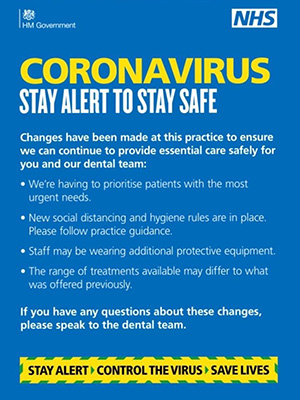 We hope this message finds you and your family in good health. We have missed you all!

St Michaels Dental practice will be re- opening on the 15th June  but we just wanted to be clear that this will not be business as usual.  It will take some time before services return to what you previously experienced as normal and we will be doing a slow and risk assessed phased return to seeing patients.
At the moment we are prioritising patients who need urgent care, then we will look to fix any less urgent problems along with finishing treatment that was cancelled due to lockdown We are not able to make routine appointments, but we will let you know as soon as we can.
Unfortunately, we are not able to offer a walk in service at this time and ask you not to come to the surgery as our doors remain closed and remote screening will be in place before being allowed to enter the practice and by appointment only.  We can offer the option of a telephone or video consultation in order for you to avoid having to come to the practice.

Please be assured that we are doing everything we can to keep our patients and the team as safe as possible.
We have made these changes to help protect our patients and staff:
Our practice will communicate with you beforehand to ask some screening questions. You'll be asked those same questions again at your appointment.
We have hand sanitisers that we will ask you to use when you enter the practice. You will also find some in the reception area and other places in the practice for you to use as needed.
We no longer offer magazines, children's toys and so forth, since those items are difficult to clean and disinfect.
Appointments will be managed to allow for social distancing between patients. That might mean that you're offered fewer options for scheduling your appointment.
We will do our best to allow greater time between patients to reduce waiting times for you, as well as to reduce the number of patients in the reception area at any one time.
How you can help us:
With the exception of children and patients with carers, patients should come alone.
A distance of at least 2 metres must be observed if another patient is present in the dental practice.
Payment should be made by card where possible, if this is not possible then money will be accepted in a plastic bag.
If you show symptoms following appointment booking, you should contact the practice by phone or email.
Please do not arrive early to the practice. If necessary, you should wait outside the practice.
Please do not arrive without an appointment.
Patients should come wearing a mask or face covering if possible.
We would like to thank all our patients for their continued patience and wonderful support that you have shown to us throughout this period. We look forward to welcoming you back through our doors!
From all the team at St Michael's
Managing Toothache at Home Document